Mom's treatment is done! and I am finally back at the helm of the Omelet. I see somebody somewhere was actually reading the Highlander posts in my absence, which is thrilling for at least one of us!
But we have unfinished business: I promised you Sarandon. I promised you vampire(s). I promised you an outpouring of praise for what may be my all-time favorite horror film—and if I didn't, brace yourselves. I wrote the first part of this before rewatching and before my schedule got rearranged, so with a few corrections, this should do just fine for a heart-based holiday:
And here we are. I can't think of any better way to ring out this year celebrate Valentine's Day than with Fright Night—one of my favorite vampire movies, one of my favorite horror movies, and one of my favorite movies full stop. I won't pretend this one is really "found again." It's not even an every-other-year creepy pleasure like Candyman. Fright Night is, not to put too fine a pointy fang on it, The Good Stuff.
The Premise: Angsty, amiable teen doofus Charlie Brewster (William Ragsdale, who like one of last week the last review's stars was in Herman's Head) likes making out with his girlfriend Amy while the late-night horror show Fright Night plays in the background. His sexual frustration is the least of his troubles when he starts to suspect his new neighbor, Jerry Dandridge (Chris Sarandon, perfectly cast), might be a vampire.
When his weird friend Ed can't provide enough protective vampire lore, Charlie seeks out the Fright Night show's host, Peter Vincent. Instead of Van Helsing, however, Vincent is more Peter Cushing by way of Elvira, a washed-up actor annoyed by Charlie's request for help and terrified when he realizes there really is a vampire. Once Jerry discovers they're on to him, he begins to prey on Charlie's friends, and Charlie and Peter must fight the vampire and save Amy from the extremely sexy clutches of a fiend.
I'm going to blow the "Verdict" section on this one. If you for some reason haven't seen Fright Night, recently or ever, you should do that. Don't even finish reading this. It's that good. (And if you're squeamish like me, it's not even particularly gory until the end; I suspect a lot of the R rating was for boobs and swears.)

There is so much to like about this movie:
Fright Night is a crucial link between subgenres of vampire film, in that Jerry  is both a suave fanged seducer in the Christopher Lee mold and a gnarly* bat-monster in the style of Buffy the Vampire Slayer and other screen vamps who came after Fright Night's 1985 release. (That the plot involves a Hammer-horror-style actor coming up against gritty reality indicates that this duality is intentional, making the whole thing even better.)
Similarly, the mortal characters are all recognizable '80s stock movie people, but so well-realized they rise above it. Stereotypical "horny teen" Charlie ends up worrying more about his math grade—and, you know, the vampire—than he does about getting laid. Charlie's mother is to some extent written as a typical checked-out working parent, but it's not ennui: it's that this single mother has just started working nights and isn't at her best for the duration of the film. And the quirky friend, "Evil" Ed, gets the most wrenching scenes in the movie. Fright Night is a little like Pumpkinhead, I think; if you go a while between viewings, the genre starts to blot out how nuanced and generally good the characters are. (It's also nice that they look and dress like real people—looking at you, enjoyable-but-not-at-this-level remake.)
The characters often act the way you'd expect real people to act in such a situation. One of the first things Charlie does when people start disappearing is what so many protagonists should do… call the cops. They (quite realistically) think Charlie is nuts–as do his friends, who stage an intervention when they're afraid he might endanger someone. All of this gives the movie a nice grounding when the monsters really get going.
The vampire. I imagine it's hard to be an iconic bloodsucker with a name like "Jerry Dandridge," but my goodness does Chris Sarandon make it look easy. Anyone who's spent more than a few minutes on this site knows I'm susceptible to what you might call "villain cute," and you may never find a better example than some of the scenes in Fright Night.  Even so, Jerry is by no means a one-note baddie: by turns amused and frustrated by Charlie's campaign against him, he also shows a certain amount of weariness with his immortality and need to prey on others that makes him almost a tragic figure. (Me being me, I sat in front of my screen thinking "Oh, yeah. This is what I'm supposed to feel about Connor's situation in Highlander. ….Yep, still don't.")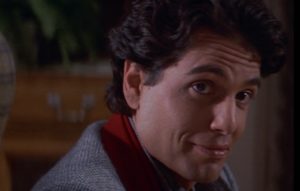 To sum up: Fright Night is a literally great movie that is also very entertaining. (If you want more on this, there's a documentary I haven't seen yet, and the Faculty of Horror podcast did a very good episode on the film. That's where I learned that Chris Sarandon actually researched bats for his role as Dandridge; I thought I couldn't love Fright Night more, but that tidbit proved me wrong.
*It is my belief that there are actors you simply cannot make ugly (readers here can probably name most of them by now), but the filmmakers certainly have a good go at it near the end of this movie—which is only a spoiler if you've never seen a vampire movie before.
Next time: Music post for Friday because we haven't had one in a very long time; Jonny Quest posting resumes on Monday. Against steep odds, let's get normal!