Why Finally? While I've absorbed my share of old weird fiction. I'd never before read anything by the splendidly named Seabury Quinn, whose writing career overlapped with H.P. Lovecraft, Robert E. Howard, and the rest of the classic Weird Tales crowd of the early 20th century. I've been toying with the idea of writing an occult detective story, and The Horror on the Links collects stories about Quinn's own recurring occult detective, Dr. Jules de Grandin, so I figured I'd take a peek.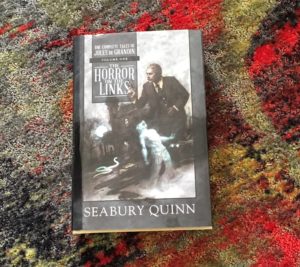 The Premise: Dr. Trowbridge of New Jersey is introduced to dashing physician, WWI veteran, world traveler, detective and general awesome person Jules de Grandin (of the French Sureté, a fact de Grandin points out approximately three billion times in this first volume of stories alone). They form both a friendship and a Holmes-and-Watson-like team, solving cases that can best be described as "what if every mystic fraud debunked in the Father Brown stories were true and also there were a bunch of monsters running around?"
Reader, it took me months to (sometimes) slog through this collection. I was initially knocked off my stride by the character's introduction, in which de Grandin is said to have just a trace of a French accent and then goes on to talk like Hercule Poirot [ETA: a pretty Deadwood version of Poirot, on second glance] for the entire run.


The stories themselves are uneven: one adventure tale with pirates and a sea monster ("The Isle of Missing Ships")ends with the monster being poisoned "offstage"… and I'm usually on Team Kraken to begin with. Another ("The Dead Hand") has the detective correctly deducing, on scant evidence, that the culprit is a mesmerized corpse hand.
Of course it is.
That one almost caused me to stop reading altogether, but it was followed immediately by an excellent, if gruesome, mutilation story that could have been an episode of Criminal Minds. The Horror on the Links is an interesting assemblage of creatures, vampires, old gods, pirates, murderers, curses, and pretty much anything you can think of (especially if you were thinking of ghost Templars).
The Verdict: If these collections were a bit cheaper, I might read more Jules de Grandin; there's a certain monster-of-the-week quality to these stories that appeals to me, even when the monsters themselves are silly. Like a lot of weird tales from this period, the de Grandin stories traffic in silly stereotypes about "foreigners," but at some level, this includes the French-swearing detective himself; I'm not sure what to make of that.
I've read in various places online that these stories aren't Quinn's best work, and I can believe it. Proceed with caution. On the other hand, though… ghost Templars.
Might go well with: A charcuterie plate. And don't forget the cheese!
Next time:  Despite often saying that Lovecraft's fish-people stories separate those who kind of want to be mermaids from those who really, really want to be mermaids, I've never seen Dagon all the way through—until now.