I decided to postpone the other stuff and stick with last week's theme of British ghost story adaptations, so this Friday we turn to the BBC's 2005  A View from A Hill.
Why Finally? Like "Mrs. Amworth" author E.F Benson, M.R. James was a British writer of classic ghost stories, the most well-known of which may be the gothic "Count Magnus." (And like H.P. Lovecraft, James has inspired an excellent podcast. ) "A View from a Hill" is, hands down, my favorite James story… and, so far as I can tell,  pretty much no one else's. So it's easy to imagine how happy I was when I saw this adaptation available on Amazon Prime.
The Premise: Archaeologist Dr. Fanshawe travels to Squire Richards's country estate. When Fanshawe sets out to tour his surroundings, he takes a pair of handmade binoculars the squire inherited from a strange and sinister antiquary named Baxter. It turns out Baxter's glasses can see into the past, letting Fanshawe see intact buildings instead of the ruins that surround him—but he's looking through dead men's eyes, and it comes at a price.
I keep trying to articulate why this is my favorite James offering, and the closest I can come is that I sympathize with Fanshawe completely, unlike the legions of mad resurrectionists, seance-holders and ignorers of warning signs who usually populate ghost stories. The moment I read about those binoculars, I wanted them to be real, and mine, and damn the consequences. Quite aside from the spectral penalties for meddling in that which humankind was never etc., etc., this story has such a great main idea that I always get really excited about it. Necromantic augmented reality!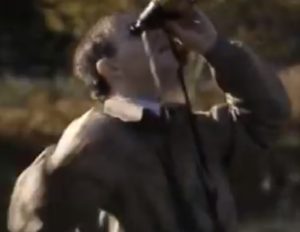 The biggest difference from the 1925 original is the way the TV production treats class issues—which is to say that it does so at all. In the James story, Dr. Fanshawe and Squire Richards are friends; in this version Fanshawe has been hired to appraise the squire's possessions, so he's a social inferior, even though the squire is being forced to sell things to keep up his estate. Richards's failing finances are a good expansion on the idea of decay that drives Baxter to his historical meddling in the first place, and it all adds a new underlying tension to the story.
The Verdict: For obvious reasons, I love this, especially the scenes of Fanshawe at the abbey. I have a few minor quibbles about this production, but most are because I really like that break-it-down-in-the-drawing-room, expository style of old ghost stories; I can hardly fault a TV production for taking a more visual approach to the scary parts. If you love the story as much as I do—alas, you probably don't—you'll really enjoy this. If instead you're meeting "A View from a Hill" for the first time, this is still a great, creepy dramatization.
Might go well with: Whiskey, a bracing cup of tea, your favorite period drama, and, if the thought of academics on bicycles warms your heart, H. P. Lovecraft's "The Picture in the House." The central conceit also reminds me of Robert Holdstock's Mythago books, so you might check those out as well.
Next time: We're wrapping up "Double Danger" not with a bang, but with many bangs and a sort of trumpeting noise.