Why Found-Again? My mother sold the family home last year, and I finally had to deal with the last thing I had left there: call it The Big Box Of J.A.'s Late Adolescence.
When I finally went though it—through the college papers and the really long satiric poems (mine) and the souvenir pom-pom from a 1991 ODU/Penn State basketball game I attended, among other odd treasures—I found neatly trimmed and stapled Soap Opera Digest recaps of every episode of what was then referred to as "the new Dark Shadows."
Suddenly I was reminded of the weirdness of being a 17-year-old American kid with an absolutely scorching crush on Ben Cross. I suppose the answer to "Why Found-Again" might be "dignity"?
The Premise: In the little village of Collinsport, Maine (of course it's Maine), a down-on-his-luck handyman decides to rob the Collins family crypt and accidentally frees 200-year-old vampire Barnabas. Barnabas and his new Eurotrash wardrobe—seems there really was some gold in that crypt—pose as part of the British branch of the wealthy Collins family and are welcomed with open arms.
When the vampire meets Victoria Winters, a governess who… surprise!… looks exactly like his long-lost fiancée, the stage is set for a story of loss, anguish, revenge, witchcraft, and time travel. Shortly after the doctor who was trying to cure Barnabas turns on him…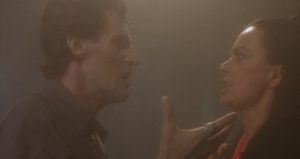 …Victoria finds herself thrust into the 18th century, embroiled in the Collins family troubles that led to Barnabas's vampirism. (From what I've heard, this throw-in-all-the-paranormal-stuff-and-see-what-sticks approach is very much in the spirit of the original series. There's always something happening in Collinsport!)
The Dark Shadows revival has a certain thematic similarity to Highlander in that we have a protagonist who would like to end his inner turmoil and become a nice, normal, incredibly wealthy mortal guy—which in this case would deprive the audience of Ben Cross roaring with fangs bared, so I'm completely against it.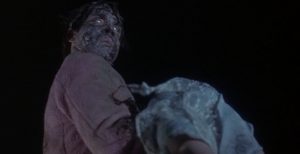 The Verdict: During its original run, I loved this show so much I named my hamster Josette after Barnabas's long-lost love.  While I still enjoyed re-viewing, I must admit it no longer elicits quite that level of enthusiasm. If you are the sort of person who feels self-conscious watching something over the top, the '90s Dark Shadows is certainly to be avoided (of course, you also won't be reading this, since you will have perished from self-combustion somewhere around my eighth Highlander post). On the other hand, there are only twelve episodes, and it hits the comforting staples (also not a vampire joke) of everything I thought horror was as a young child.
And speaking of young children, take a look at the cast member who turned out the be the breakout movie star:
Might go well with: A black shirt, candlelight, anything Christopher Lee ever appeared in, a decent port.