Why Finally? A few weeks ago, we covered a vampire detective I didn't like—and I have to say I enjoy (for a given value of that word) watching Forever Knight far more now that I go into it knowing I'm going to mock it. A very silly weight has been lifted.
My hunt is still on for that TV equivalent of The Vampire Files' Jack Fleming, though, so I thought I'd check out Moonlight, which ran for one season in 2007.
The Premise: Mick St. John (Alex O'Loughlin) is a relatively recent vampire; he was a hard-boiled '50s PI who fell in love and got vamped on his wedding night. This would make a great opportunity for a Moonlight/Highlander: End Game-based crossover where Mick and Duncan MacLeod's ex bond in some kind of group therapy, but instead Mick is still being absurdly cute solving crimes.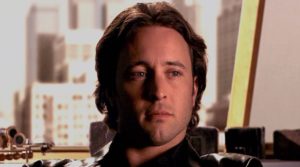 One investigation brings him into contact with a reporter named Beth (Sophia Myles), whose life Mick saved from his ex when Beth was a child, and a relationship begins to bloom. Between fanged villains and Beth's Lois Lane-like talent for finding trouble and running toward it at high speed, it's a (un)life of adventure.
You know I love a good case-of-the-week show, but it turns out I still hate internecine vampire politics, so Moonlight occasionally became hard going. The series also plays around with the idea of a cure for vampirism, one of my pet peeves. (I don't know why it should be, but from the Dark Shadows revival to the romance novels I read as a teenager, I've never really clicked with the concept.) Mick is a great character, but I didn't really like Moonlight itself enough to stick with it.
The Verdict: I honestly wonder if this one might be me; perhaps I'm just in the wrong mood at this point in time. There were a lot of good moments in Moonlight, but they just didn't add up quite right. I may revisit this in a year or two and see if I find it easier to get into.
Someday, though,  it'll happen: the thing I'm looking for will get made—heck, maybe someone will put the actual Vampire Files on a screen of some size—and when it does, I'll be nodding and grinning and thinking "Perfect. A little bit X-Files, a little bit Remington Steele, and a little bit Moonlight." But this show by itself doesn't seem to be it.
To put it in perspective with other recent reviews here at the Omelet, while Mick is no Mildred Heavewater, neither is he a Nick Knight (thank god).
Might go well with: A nice glass of whatever you like to drink. May want to err on the side of intoxicant.
(Note: some of the roles were recast after the pilot, so the trailer differs from the actual show. On the other hand, the "absurdly cute" quotient is strong.)