This one's iffy: while it's true that I once sat down to watch Heaven's Prisoners and remained in the room the whole time, I fell asleep and never followed up until last week. After all, it seemed incomprehensible that anything with Eric Roberts as the bad guy could be dull enough to incite sleep. It might not be good, but it shouldn't be dull.
Good news, kind of!
The Premise: This is one of two film adaptations of James Lee Burke's Dave Robicheaux books: regular readers will remember that these often have a similar structure to episodes of Highlander: The Series. Alec Baldwin stars as Robicheaux, an alcoholic ex-cop who tries and fails to shake his past by leaving New Orleans and opening a bait shop in the bayou. A plane crash lands him with both a foster child and a mystery, and the answer lies with his childhood friend, mobster wannabe Bubba Rocque (Roberts).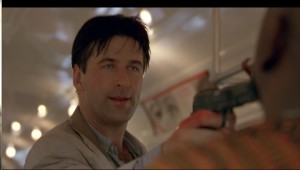 The good news is that if you get past the first 40 minutes or so without pricking your finger on a magic spindle, Heaven's Prisoners picks up considerably, with some nice action sequences and interesting secondary characters. (The other good news is the soundtrack, which is naturally blues-heavy.) The bad news is that it's often a colossal downer of a film; if you've read the books, you know Robicheaux is what you might get if Thomas Hardy had a bowl of jambalaya, watched a few cop shows, and decided to write a mystery series, so this is not surprising. And then there's Bubba Rocque. Did I mention Eric Roberts sports a distracting combination cornrows/French braid/man-bun for most of the film? You won't be able to forget it.
The Verdict: Definitely better than I remembered (in that I got  all the way through it), but still not quite the movie the books deserve.
Might go well with: Etouffée, beer, and the much sillier The Big Easy, since I've got to admit I've never conked out on that one.