(Episode: "Calcutta Adventure")
Synopsis: It's Hadji's origin story! The awesome orphan meets the Quests for the first time and helps foil a plot to manufacture nerve gas. Also on the scene is Hadji's friend, the greedy Pasha Peddler, who has a knack for making timely rescues profitable.
Tip 28: Sometimes you just need to slow down…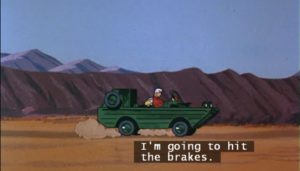 …and one of those times is when you are being chased by an airplane.
(Yes, this does add yet another fatality to whatever the Jonny Quest death rolls are by now. Low double digits, I think.)
Next time: We'll be back with the Hardy Boys.
Next time on TQfM!: Low friends in high places.