Why… well, just why? I never found it until this week, and it's sure not "finally!" watched, but this one made it into my Netflix queue for three reasons:
I like gargoyles.
Eric Balfour, who plays this movie's hero,  was one of my favorite things about Haven.
 I have a very high tolerance for bad effects. (I own The Shining miniseries: enough said.)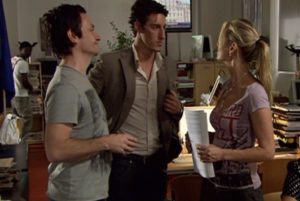 The Premise: Scholar Jack Randall (Balfour, with a very good adventure-hero moniker) once wrote a book about cryptids at the instigation of his girlfriend Carol, and it almost destroyed him professionally. After another rejection for Jack's latest manuscript, Carol talks him into exploring an old church scheduled for demolition. While in the catacombs, she pockets a strange rock—which is so obviously a gargoyle egg that you'll be yelling at your TV—and loses her life as a result. Slowly Jack begins to put the pieces together (no pun intended), and with the help of a pair of tabloid TV reporters and an insane priest (Nick Mancuso!), Jack sets out to exterminate the murderous creature.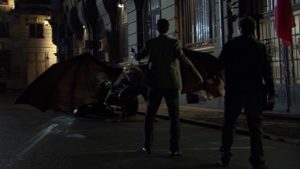 I sometimes feel as though movies I'm ambivalent about are trying to win me over, like when the Carpenters' "Superstar" kept turning up in 2007's Ghost Rider. That's the case here, too. Rise of the Gargoyles  is uniquely suited to my interests, with Balfour in a tweed jacket as an amalgam of Indiana Jones, Rupert Giles and Dan Brown's Robert Langdon. There's mention of that other, more NSFW stone creature, the sheela-na-gig—pretty impressive folklore knowledge for a monster movie. And just like in Belphegor, we have a creature terrorizing Paris, albeit with a lot more blood. This movie should be awesome, for that value of awesome that is "puts a manic grin on my face at the prospect of maybe seeing a baby gargoyle." (Spoiler alert: there's a reason the phrase isn't "Chekhov's Baby Gargoyle." Maybe the budget wasn't there.)
The Verdict: For the second week in a row, what should have been a really enjoyable monster flick fails to fully deliver. Rise of the Gargoyles never quite clicks: the characters don't seem to relate to each other, the idea that Jack is suspected of Carol's murder—with one swipe of his pointed academic bona fides, presumably—is ridiculous, and even a few horror moments reminiscent of Preston and Child's excellent The Relic couldn't get the movie where it needed to go. It's not bad (and Mancuso declaiming about the devil is not to be missed), but it is kind of a long 94 minutes.
Even So: There's something endearing about a movie where people in trouble call the police, bring extra flashlight batteries on their trip to the old crypt, and so on. Rise of the Gargoyles has a practical-minded streak that I appreciated.
Fun Trivia Fact: If a gargoyle stops acting as a waterspout—say, by coming to life and decapitating a bunch of people—it is technically a grotesque in every possible sense.
Might go well with: Croissants, as long as they aren't actually monster eggs; The Relic; Haven.
Next time: Dr. Quest's Mini-Me.