Why Finally? Readers of this site—if any are left after my absence—may have noticed my preference for supernatural horror over slasher/torture films (given Freddy, Jason and Michael, slashers aren't exactly supernatural-free, but never mind). This is partly my own squeamishness and partly some ingrained impulse: asked to choose between "movie in which a live guy kills a bunch of people" and "movie in which a dead guy kills a bunch of people," I'll pick the cranky spirit every time.
So it was surprising last year that I enjoyed the first season of Canada's Slasher series on Netflix. From its Halloween-massacre beginning to its maybe-supernatural coda, I was fascinated by the web of small-town intrigue, revenge,  and (very) bloody murder, and I highly recommend it even to people who will have to cover their eyes. I hadn't realized the show was coming back, but the second season teased an unrelated story of concealed murder at a summer camp (subtitled Guilty Party)—what could be more classic?
The Premise: When a revenge scheme gets out of hand and a girl dies, a group of camp counselors forges a pact of silence. Five years later, they come together to move the body before the commune that now owns the property expands its facilities to the burial site. Before the guilty parties (ha!) can even get unpacked, their only transportation out of the wilderness has an abrupt meeting with a chainsaw. The conspirators are trapped with the commune members in a snowy mountain retreat with a vengeful killer on the loose.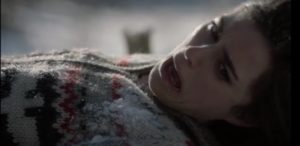 That sounds pretty good, doesn't it? And if I said that everyone in that cabin is hiding something terrible, even the vegan yogis, it would sound even better. Yet this story disappoints: things you think are red herrings become things you hope are red herrings, then pretty clearly become exactly what's going on. Watching the commune members descend from hippy-dippy camaraderie to paranoia and violence is a large part of the seven episodes, but any psychological interest to be had from this can't make up for the other deficiencies.
The Verdict: Despite good pacing—especially when unfolding the camp story—and enough character development that I was rooting for very different people at the end of the series than at the beginning, the second season of Slasher just didn't quite achieve the heights of the first. Add to that a sense that some events are there purely for shock value (above and beyond the usual creative kills, I mean) and while I'll likely check out any third season, this iteration of the series let me down.
Might go well with: The first Slasher season. The first Friday the 13th. And I ought to warn readers that there's a whole plot about meat vs. vegetarianism, with somewhat predictable results, so choose your food with care.
You can find the trailer here.
Next time: I get to spend my weekend gearing up to resume The Quest For Monday. Race Bannon's the nerdy redhead, right?