Why Found-Again? As usual, darned if I know. I've read a lot of Barbara Michaels novels and I own my favorites, but this 1986 book is the only one that doesn't get a yearly re-read, even though it's set in the general area where I grew up and is in other ways relevant to my interests.
The Premise: Broadly, the premise of most Barbara Michaels books: a heroine finds herself in a creepy old house that is filled with danger from forces both spectral and human. The genre is gothic/romantic suspense, which can definitely stray too far into its own silly conventions: then again, which genre doesn't from time to time?
In Be Buried in the Rain, our heroine Julie has a lot to be cynical about: the moment medical school isn't keeping her busy, she's asked to spend the summer taking care of her (evil) grandmother at a run-down farmhouse somewhere near Tidewater. Julie finally agrees, which brings her into contact with a former lover, a smarmy politician who happens to be her cousin, and an assortment of zealots, religious and New Age alike—all of whom are very interested when two skeletons turn up on the road. What secret from the past is hidden in those bones?
I'll say this for our protagonist: faced with ailing and nutty relatives, she does not start watching Highlander obsessively. I've heard that can happen.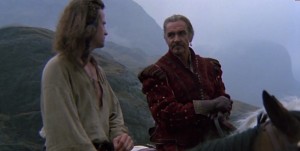 Instead Julie takes matters into her own hands, reading to her grandmother by day—if you break it down into real time, this is probably a book about a woman reading Bleak House aloud—and looking into the mystery in her precious free time. This is a mystery story, but it is also a book about family and…well, how family can screw you up.
The Verdict: Only this year have I come to realize how much these books, which I first read as a young teenager, have influenced both the way I write and what my concept of "a novel for grownups" should resemble in general shape and tone. That said, I think in this case the similarities to my own experiences are working against it, making it less interesting than the Michaels books set in Georgetown or farther abroad.
(…And while I was writing this, I  remembered that somewhere in my hometown, there may still be video of me doing a book talk for this in the eighth grade. Talk about horrors from the past…)
Might go well with: Country ham biscuits, Dickens, a nice nightgown.
Next time: The hiatus will come to an end and we'll catch up with the Quest family. I will also be doing something fun here next weekend—by which I mean the weekend after the approaching one.