This one's going to be a multi-parter every other week until it's all done.
Why Found-Again: When I finally saved up enough allowance to buy this, sometime around 1983 or '84, it immediately became my bible.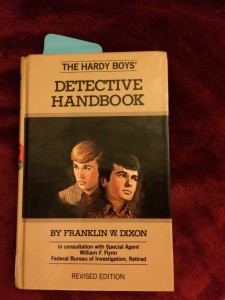 Readers of this site have no doubt noticed I can be insufferable about things I'm interested in—why, yes, I am still yelling at the end of Highlander whenever I watch it as though expecting a different result, how did you know?—and one thing I have always been interested in is a detective story. My parents, who I have to assume thought they were getting one of those kids who would tell them what happened at school that day, suddenly found themselves saddled with a would-be miniature Magnum, P.I. blathering on about various kinds of surveillance while not eating her vegetables.
Mysteriously, regaling my family with the details of detective work in no way caused Dad to hurry up and build that network of Three-Investigator-style hidden offices I wanted. Maybe I should have picked up How To Win Friends And Influence People first?
The Premise (Entire Book): Written in conjunction with a retired FBI agent, this book uses fictional teen detectives Frank and Joe Hardy in various scenarios to teach young readers sleuthing skills. (I have the revised 1972 edition.) It essentially works out as  half guidebook, half story collection.
The Premise (Chapter 1—Undercover Work): When a plastics factory suffers a series of thefts, the owner enlists the help of the Hardy Boys' father, who sends Frank and Joe undercover as delinquents in need of jobs.
The boys manage to infiltrate the group responsible for the thefts, only to be inadvertently ratted out by the factory owner, who obviously should've been in the briefing pictured above.
The Verdict: Above all, I remember this book as being hilariously dated, even at the time I was first reading it. This chapter was less Starsky & Hutch than Dragnet, though, heavy on common sense and following procedures. There were, however,  a few odd moments: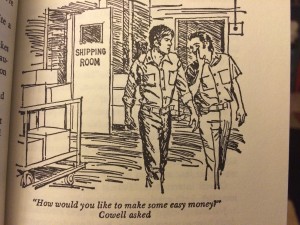 Not bad at all so far.
Next time: Jonny Quest eludes yet another attempt to destroy his globetrotting family. Doesn't narrow it down much, does it?