Why Found-Again? Because I was an inquisitive child literally surrounded by the kinds of evidence this chapter, "The Case of the Shabby Shoes," talked about. If I could've talked my folks into the plaster, I might still have tractor-tire casts lying around.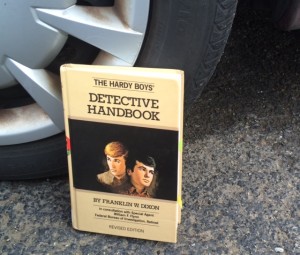 The Premise: The police—still frighteningly short-staffed—call on Fenton Hardy, his kids, and their friend Tony when thieves ambush an eccentric businessman and crack his skull.
Although it probably contains almost as much technical information as the previous story, "The Case of the Shabby Shoes" works much better as a story.
There are a number of different locations involved, the Hardys interview witnesses, and there's even a chase before the bad guys are brought to justice. It's also not clear until the end whether the case will be murder, which effectively amps up the suspense. And along the way, we're given a lot of practical tips for gathering different varieties of physical evidence—which is handy, because these miscreants leave all kinds of stuff behind:
The Verdict: Positive. This is the best mix of mystery and reference material the handbook has provided so far, and it even includes a diagram showing you how to make a plaster footprint cast. I'm also noticing that most of the villains in these tales are former convicted criminals, which makes this book unlike most mysteries I've read as an adult.
Next time: Let's see if we can finally get Jonny Quest to that darned temple.