Why Found-Again? Because I've watched more cop shows than you've had hot dinners. Heck, given Law & Order marathons, probably more than I've had hot dinners.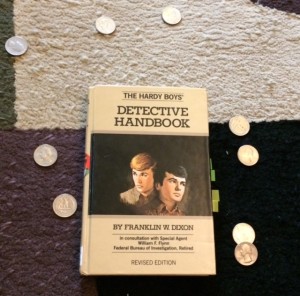 The Premise: This week's chapter is about observation and memory, and we've got an actual murder for this one! Police chief Collig's rookie-cop nephew has been killed at a traffic stop, and the chief and the Hardys are investigating—which seems less weird when you remember how few police officers Bayport seems to have. Sure, it's a conflict of interest, but they're probably down to nine guys and one over-18 civilian!
Sidekick Chet once again along for the ride, the boys set about looking for clues while teaching their chum how to train his powers of observation. This starts with simple memory exercises and then, once they find the car involved in the shooting, moves on to a discussion of how law enforcement records things out of the ordinary in their surroundings. Sure enough, our bad guy was recently questioned by another cop, at which time he gave a terrible alias:

Granted, his name is Amos Chipman, so it's not as bad as it seems (and this may be a good time to point out that every villain in this book has a name that sounds picked from The Big Book Of Fictional Longshoremen). Through some canvassing the area, the Hardys find their man, leading to the noirest illustration in the whole handbook.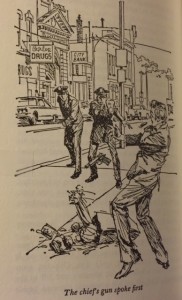 The Verdict: I liked this one, even if the chain of clues is started by the pure dumb luck of Chet spotting the car. The writers ably made up for the lack of technical detail in this chapter with a pretty good story—though there's yet another cigar/cigarette clue. I wonder how much case clearance in Bayport would drop if everybody just quit smoking.
As a bonus, one of my favorite movie scenes about observation, from the Holmes-Watson role-reversal comedy Without A Clue:
Next time: We start a new Jonny Quest! I've been waiting to say that for weeks.