(Episode: "Calcutta Adventure")
Synopsis: It's Hadji's origin story! The awesome orphan meets the Quests for the first time and helps foil a plot to manufacture nerve gas. Also on the scene is Hadji's friend, the greedy Pasha Peddler, who has a knack for making timely rescues profitable.
Tip 25: Always lead with the bad news.
Dr. Quest is in Calcutta for a presentation on sound waves, which he kicks off by destroying [a scale model of] New York.
The good news about sound waves, of course, is that porpoises can talk to each other.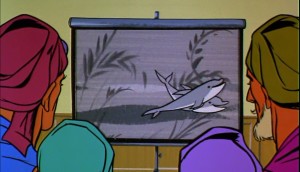 Next time: Undecided for Friday. Will it be Barton Fink, or do I dare write up another Frankenstein adaptation?
Next time on TQfM! Jonny tackles making a new friend. Yes, that's a pun.