(Episode: "Calcutta Adventure")
Synopsis: It's Hadji's origin story! The awesome orphan meets the Quests for the first time and helps foil a plot to manufacture nerve gas. Also on the scene is Hadji's friend, the greedy Pasha Peddler, who has a knack for making timely rescues profitable.
Tip 27: Safety is more important than etiquette.
Eavesdropping is wrong; eavesdropping on the people trying to kill you might, however, be necessary.
Astute campers will notice that Jonny is helped by a version of the legendary Indian rope trick. Alas, the mind-blowing knowledge that this not only is real but can be done by a ten-year-old boy is of  as much interest to scientist Benton Quest as that mummy from a while back.
Special bonus screenshot: Dr. Quest forgets all kinds of Indian history.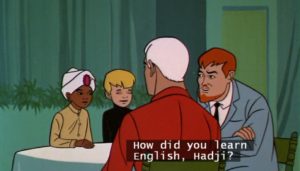 Next time on TQfM!: Into the mountains.