Why Found-Again? As a kid, I'd occasionally get overwhelmed by horror. My first Stephen King novel ended up in a faroff closet, only to be pulled out every other weekend. I did the same thing with the first two books of Anne Rice's vampire series. And when I saw my very first Tales from the Crypt episode, "Lover Come Hack To Me," I was both thoroughly freaked out and ready to watch some more. In fact, a creature from a Tales episode ranks with Pinhead and Samara Morgan among the few horror-movie things that have given me nightmares.
That's one reason I ended up in the theater when Bordello of Blood came out. Others include an ill-advised crush on Dennis Miller and a thoroughly understandable crush on the subject of our theme month.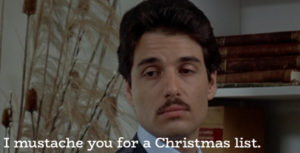 The Premise:  Some leftover explorers from an unmade Indiana Jones movie find the mummified vampire Lilith (Angie Everhart) and restore her to bloodthirsty life, significantly shortening theirs.
Back in the US, the chaste Katherine (Erika Eleniak) has a fight with her loser brother (Corey Feldman), and he storms out of the house. When he doesn't return, Katherine hires detective Rafe Guttman (Dennis Miller) to find him. The trail leads to a secret vampire brothel hidden beneath a mortuary. Lilith is an entrepreneur now! And brother Caleb has been good and chomped.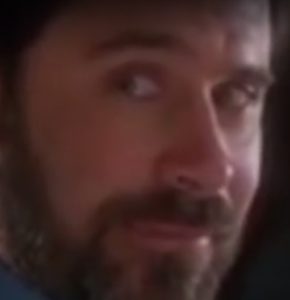 Rafe, Katherine, and Katherine's boss JC (Sarandon as a televangelist with a guitar!) must band together to rout the fanged legions… with Super-Soakers full of holy water, among other things.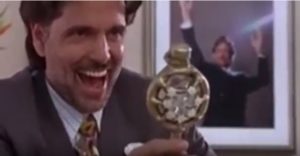 I've been watching a lot of Jason Statham movies this year–I didn't write them up for the Omelet; you're welcome–and the comparison that kept coming to mind was Crank and its sequel, the weird action movies that got so much easier to enjoy when I realized they were a kind of live-action Roadrunner cartoon. The kills and the big fight in Bordello of Blood have the same manic, unreal, goofy quality. And yet…
The Verdict: I tend to be optimistic about my Friday rewatches. Usually I rediscover what I liked about a film; at the least, I'll make peace with not liking it or find something interesting there. Rarely does a movie I watch of my own free will seem worse with every viewing, but Bordello of Blood is that rare case. It has its moments, but the tone of the whole thing seems more like a Cryptkeeper monologue than a fully fleshed-out (sorry) episode of Tales from the Crypt.
To put it bluntly, I could not get over the stupid.
Unless you are a hitherto untapped Dennis Miller enthusiast, you'd be better off with the first Tales movie, Demon Knight.
Might go well with: Cherry Jell-O salad.
Next time: Jonny Quest isn't Aquaman. Maybe that's a good thing.