Why Found-Again? Because a lifelong fascination with CSI stuff had to start somewhere. It probably wasn't here, but I'm not sure that matters. Just look at that adorable book.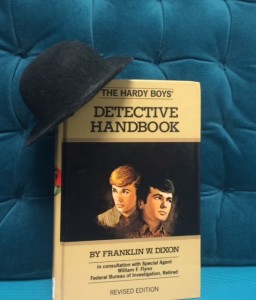 The Premise: In "The Safecracker's Calling Card," the Hardy clan—plus friend Chet— gets called in to assist a burglary investigation, which leads to our characters learning about modus operandi, profiling, and what sort of information is collected for a "Wanted" notice. It also, (un?)fortunately for impure modern readers, leads to a discussion of safecracking techniques.
As a story, this chapter was solid, even though the "whodunit" part is solved almost immediately thanks to Fenton Hardy's enormous card catalogue of villains (and to one of the thieves leaving his jacket, complete with dry-cleaning tag, at the crime scene—honestly). Just like in "The Case of the Shabby Shoes," our heroes do a lot of legwork, and there's a suspenseful quest—culminating in a mini-manhunt during which we learn how to track a fugitive—to bring the thief to justice.
This chapter also manages to neatly work in all the skills from the previous stories: fingerprints are searched for, shoeprints are taken, and Chet even goes briefly "undercover" to confirm the residence of the bad guys. And although the techniques are, as ever, a little outdated and analog…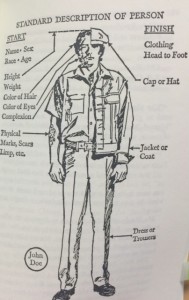 …the story hints at a few things that will become important in the crime stories that have followed it: going through trash for clues, for example, and the rise of intellectual property theft (the safecracker steals proprietary jewelry designs as well as the usual cash and bonds). I recently read an article about another prescient Hardy Boys plot, and it's interesting to see the trend stretches back to at least the 1970s.
So far, budding crime lords can take the following lessons from this book:
Don't leave fingerprints. (This is clearly the most easily memorized. It's been two chapters since our last meaningful fingerprint.)
No smoking foreign tobacco while you're working.
Did you have more clothing when you went in there than you have now?
Is your way of working so familiar that, say, a private citizen friendly with the police would suspect you immediately upon seeing your handiwork?
Maybe buy new shoes with unmarked soles before every job.
Don't use your brothers as accomplices if you can help it.

The Verdict: Probably the best story so far, unless you're the security guard who got blackjacked on the first page.