It finally happened: Thanks to some plotting for October and December (which, surprise!, will look a lot like most people's October in terms of Friday posts), I've kind of cordoned off my possibilities for slow viewing weeks. As a result, I am all out of  Friday at the moment.
When TV shows hit this sort of obstacle, they often do a clip show, so I will too.
Apropos Of Our Cynical Omelet: Search Terms And Me
I love reading search-term posts on other sites, but having few readers means it's taken almost two years to amass enough for one of my own. I also think it might be fun to grade the Omelet in terms of providing service, so let's see what people have been looking for!
"Hellboy's heroine"—This was my first-ever search term, and though I've since referred to the end of the Hellboy movie, all this person got was a photo of my 2014 Hellboy Halloween costume. I'm so sorry. Grade: D+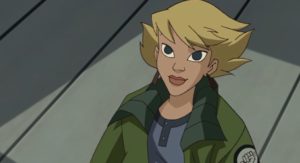 "Sean Connery and Carol Sopel"—Apparently these two were married. I didn't know that before seeing someone look for it, and I can't imagine the searcher felt edified by my bitching about Highlander and Darby O'Gill.  Grade: F
"Highlander absorbance"—This is the search term I'm most proud of; when I first noticed the spelling of "absorbance" on Brenda's printout in the movie, I couldn't find any confirmation that it was correct. That was several years ago, however, and the internet is much improved. I'm oddly pleased to be a resource to the three other proofreading Highlander fans out there. Grade: A+
"The Big Easy movie"—I like it for no compelling reason! Grade: A
"Jay Sherman and his sister Margo"—I mentioned the sibling relationship in my Friday post on The Critic, but didn't really get into it. Margo's great, though. Grade: B-
"Count Blah"—I used the Count—a Greg the Bunny character veeeeerrrry loosely based on the other famous vampire puppet—as a sight gag in my review of Frankenstein. I should probably do a Found-Again post for Greg the Bunny one of these days. Grade: C
"Kurgan fanfic"—Dude, I have tried: not to write any, but to find some, especially when I was doing the There Can Be Only Monday! posts. After on-and-mostly-off searching since I first saw the movie in the early 2000s, I have found maybe five stories. Highlander's villain is such a beloved bad guy…by me, for one…but apparently does not inspire people to churn out reams of prose. Grade: does effort count?