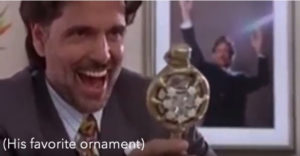 Why Found-Again? The *mumblety* years since my last viewing of Child's Play are a rare example of self-control. I find creepy dolls disturbing (especially Annabelle from The Conjuring and the horrible revenge doll from that Night Gallery episode), and for once this didn't lead me to watch every Chucky movie in existence in an attempt to compensate for my wimpiness.
The Premise: Fatally wounded by the police who are hunting him, killer Charles Lee Ray (Brad Dourif, who deserves a theme month of his own sometime) sends his spirit into a Good Guy doll, which is a fictionalized one of these:
The possessed doll is purchased by a hapless mother and son, and the evil "Chucky" snarls, bashes and slashes his way to horror-icon status.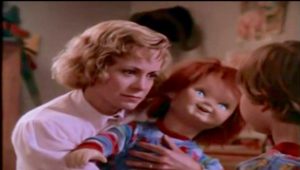 As for the subject of our December celebration, Sarandon plays Det. Mike Norris, who bookends the movie by shooting Charles Lee Ray in his various forms.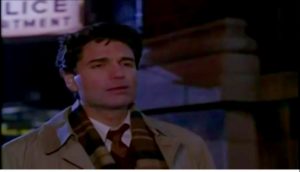 A few assorted thoughts:
Instead of a gritty New York movie, we have a gritty Chicago movie this time! In fact, a case could be made that Child's Play functions as a dark counterpart to that least gritty of Chicago movies, Ferris Bueller's Day Off: a child running loose and being tempted into bad ideas while harried parents are off working. Norris's partner even looks a tiny bit like Principal Rooney!
The murals in Charles Lee Ray's apartment make me wonder if Child's Play wasn't also inspiration for some of the visuals in Candyman, my favorite movie I can barely stand to watch, also set in the Windy City.
Catherine Hicks, who went on to play the mother on Seventh Heaven, is one of the most put-upon screen moms of all time.
Perhaps I've just watched too much Criminal Minds—check that, I have definitely watched too much Criminal Minds—but I'm really at a loss why a strangling serial killer with voodoo murals and sorcerous abilities has a getaway driver in the first place. Why was the Eddie character even there?
The Verdict: Mixed, but in a good way. It turned out I remembered very little from my first viewing, and since "person is framed by own evil doppelganger" is a plot peeve of mine, the first half verged on excruciating. What saved it for me was my love of movie voodoo and the Law & Order: Demon Doll vibe of the second half, as well as the fact that Chucky really is simultaneously terrifying and entertaining. This one is definitely worth rewatching, especially for the scene in which Andy's mom realizes the doll is alive.
Might go well with: Some of the later Nightmare on Elm Street movies; Kolchak: The Night Stalker.
Next time: "What Jonny and Hadji do to these turtles will shock you!" How's that for clickbait?